WELCOME TO RECEPTION
We are so looking forward to getting to know your child over the coming year.
Your teaching team is Mrs Jenkins (class teacher) and Mrs Colechin ( T.A.)
We want your child to be a happy, little learner. We want them to love coming to school!
Phonics
We follow the Little Wandle scheme.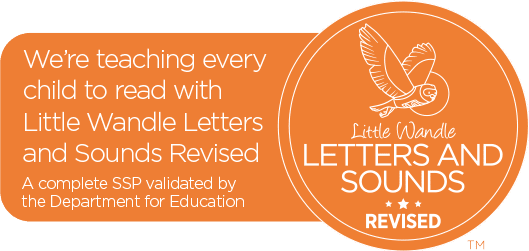 Your child will undertake a daily phonics session. We will put the sounds of the week on classdojo. Please try to support your child at home.
We encourage our children to read as much as possible at home, and to motivate them we reward every 10 reads at home with a 'dip in the box'. Please ensure you read daily as much as possible, as consistency is much better for your child. Don't forget to write in your child's record.
Maths
It is important that your child understands that numbers represent amounts and that they become confident with adding and taking away amounts up to 10. Please try to incorporate this understanding of amounts into your daily lives, such as getting 4 forks when laying the table, or finding 6 blocks of lego when playing. We follow the White Rose scheme of maths. There is a home learning page on the White Rose maths site.
Classdojo
Please make sure you have the class dojo app. We will use this platform to share pictures of your children and to update you with current information.
P.E
Our P.E days are Monday and Friday.
Please could you help your child to be more independent in dressing and undressing themselves. This would be a massive help when it comes to PE days and developing their gross motor skills.
Also as usual please label all items of clothing and footwear that your child wears. Please leave kit in school all half term.
Baking:
We now bake every week and ask for a small donation of 50p from each child. This enables us to keep up with the baking as children love it.
Dates for your diary:
WOW Day
On Wednesday 18th October we will be holding our Wow day. Our topic this term is Wonderful Me. we would like children to come to school dressed as their favourite character or in an outfit that expresses who they are.
We will having lots of fun activities on this day and maybe some tasty snacks.
Movie Night.
On Friday 24th November, we will be holding our annual Movie Night. Children are asked to come back to school at 4.30 in their pyjamas and dressing gowns, with their favourite cuddly toy. We will be having hot chocolate and marsh mallows, ceriel and a few snack while we watch one of our favourite movies, under twinkly stars in reception class.
Forest School
This term our Forest school day is Wednesday. Please ensure they come to school with a warm coat. If it is excessively wet or muddy we will pop our wellies on.
Topics
We have a termly topic plan that we follow in line with the children's interests. In the Autumn term our topic is Wonderful Me! The spring term topic is Wild Things! and the summer term topic is Tell Me a story!
Some ideas to support your child with learning at home
Maths
Dominoes
Simple add and takeaways up to 10
Play board games
Count objects- coins, buttons, socks, toys etc..,
Baking/cooking- measuring out ingredients
Watch Numberblocks
Sing simple number songs- 5 little monkeys, 10 in a bed etc…
Build lego towers- e.g 10 bricks tall and add two more
Shape hunt around the house
English
Go through the phase 2 and phase 3 sound mats- make simple bingo grids and cross the sounds out
Write full name
Share stories
Read reading book
Write simple sentences e.g I can see a dog.
Spell cvc words dog, cat, mum, dad
Read tricky words- I to no go into the are my me she they was he her all be we you
Draw pictures and label or write a simple sentence about it
Colour in pictures
Chalk outdoors
Other
Minibeast hunt, decorate sticks or pebbles, playdough, water play, make dens or tents
Internet pages
Imagination tree, Five minute mum, pinterest, Twinkl, BBC iplayer, cbeebies
In our class the children love to make models this is a very important part of a child's development. For the children to do this we need your help by bringing in any empty boxes, cartons, tubes, bottle tops or even empty packaging trays.
Reward system
We use dojo points as a reward system to motivate and encourage the children. Within our class the children are rewarded with a dip in the box when they have achieved 20 dojos. They can be given a dojo for many things such as good listening, good work, good tidying up and being kind.
How we learn
Please try not to be cross when your child has pen, paint or mud on their clothes. We learn best when we are physically active and engaged, and in our love of learning we usually forget to stay clean!