Science
Science at Featherstone All Saints
At All Saints, our children are natural scientists and are keen to explore, enquire and understand the world around them. Science lessons at All Saints concentrate on developing group work and collaboration through practical enquiries and experimentation. We encourage the children to follow our key scientific steps of enquiry n school including: observing, questioning and predicting results based on their observations.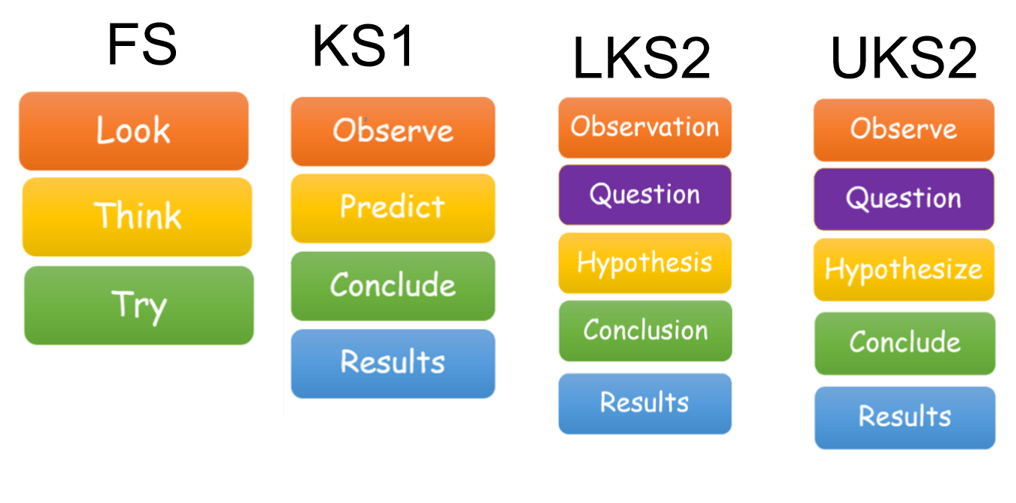 Our children are then supported in designing their own experiments to prove or disprove their hypothesis and enjoy learning from their successes and mistakes. In order to develop their scientific skills further, our older children discuss and consider the three types of variables: independent, dependent and control variables and use these to inform the design of their experiments.
As part of our school, we have Science Ambassadors in each of our KS2 classes. During the summer months, the science ambassadors will take equipment outside and conduct investigations and experiments with the children during lunchtime. We are also very lucky to have a wildlife / forest school area in our school that can be used for science lessons when needed. At All Saints, we also support science learning in a variety of ways including yearly Science and STEM weeks in addition to school trips. We hold an annual Science Fair in the Spring term where all of the children in school contribute a project and family and friends are able to join us in school to celebrate their hard work.
Science National Curriculum
Please consult your child's class page to find out which topics they are currently studying.
Science National Curriculum - Download
Science Week
February 22nd - 26th 2021
This year Science week will be a little different as it will be done at home with your grown ups. You maths and English this week may not be science based but all of your reading and Topic work will be.
Each day I have set different challenges for you to choose from. You and your family can decide which activities to do each day then simply upload photographs to Dojo for your class teacher.
Have a look at this PowerPoint that explains how it will work:
Every class in school has the exact same activities so that you can work together in your family bubbles to learn and have fun.
Please download the PowerPoints below that explain the activities available for each day. Additional optional activities may be set by your child's class teacher and shared by me on our school's Class Dojo account. Have fun and I hope you all have an AMAZING week!
If you would like to share any photographs of your Science investigations at home on the school website please send them in a direct message to your child's class teacher stating F.A.O Mrs Fisher or email them to the school office.
STEM Week
November 16-20th 2020
As part of stem week the entire school has completed projects around the STEM subjects. Have a look at what we have been up to below.
We had a really fun week learning about different aspects of science. We started the week learning about Charles Mackintosh. We then investigated the best material for an umbrella. We spent time finding out who invented the first toothbrush and created instructions for brushing out teeth. We had lots of bubbly fun finding out if we could change the shapes of our bubbles by making different shape bubble wands. Sadly we found they were always sphere shaped! Exploring more with bubbles we tried to make the biggest bubble ever! We even tried putting ourselves inside of the bubbles. Later in the week we went on a rainbow nature hunt and investigated how to make a rainbow using skittle sweets.
Year Two
We have enjoyed skittle rainbows - some failed haha! A mini beast hunt and we even captured some for our magnifying pots. We made and tested the best waterproof coats for a teddy bear which linked nicely to our research about Charles Mackintosh and finally a scooter surface experiment, investigating which surface had the least friction.
STEM week was such a busy week for Year 3. They have been involved in so many different activities and experiments which have really got us all thinking. We started our week by designing and making our very own magnetic games using our knowledge about forces and magnets. We had lots of fun creating our games and the best bit of all was when we were able to share them and play with our friends.
We then moved onto light and became detectives by breaking a secret code which we wrote in invisible ink and then we had to crack the code by using UV light detectors. This helped us with our discussion of "Be seen, Be safe" as its important to have something reflect on when we are out in the dark nights.
The scientists we focused on for the latter part of the week were the Montgolfier and Wright brothers. Both sets of brothers were revolutionary with flight. Therefore, we took the opportunity to use flight and create our own hot air balloon/rockets, test to see how far they would fly, record the length, and make this our data to go into our own graphs.
We have had a busy but productive week where our scientific knowledge has been widened and lots of fun had.
Enter text...
We started our week by using chromatography, fingerprint analysis and handwriting analysis to solve a crime - someone had stolen our class vending machine. Then we enjoyed lots of experiments exploring sound, using facial recognition software and even designing our own outside gym.
Year 6
This week we have been learning about light in year 6. We have been doing a range of experiments and investigations linked to light. We have learnt how the eyes work and how we see things.
We have also done some STEM challenges this week . Our favourite was the "Skittles challenge" . We learnt about dissolving and we talked about different things that we could do to make the colouring on the skittles dissolve faster.
The scientist that we learnt about this week was Thomas Edison – we found out lots of interest facts, such as the fact that he had the most patents (over 1000) on record.
The Big Bang Science Fair
Every year a group of children from KS2 travel to Hull to take part in the annual Big Bang Science Fair. We have a wonderful time looking at the projects created by high school and college students and meeting all of the different companies at the events. This year we: learned CPR; moved water with the army; created instruments out of scrap metal; explored space in a wonderdome and even met wild animals at the show. We never want to leave!
Unfortunately, the Big Bang Local for 2020 had to be postponed due to Covid 19.
A decision on on whether this year's Big Bang Fair will go ahead has not yet been made.
Take a look at our memories from previous years below.
Home learning
There are lots of ways that you can encourage your child to pursue science and STEM whilst they are home learning. Here are a few activity suggestions.
Children, please make sure that you consult your parents before starting any science or STEM projects so that they can supervise as needed.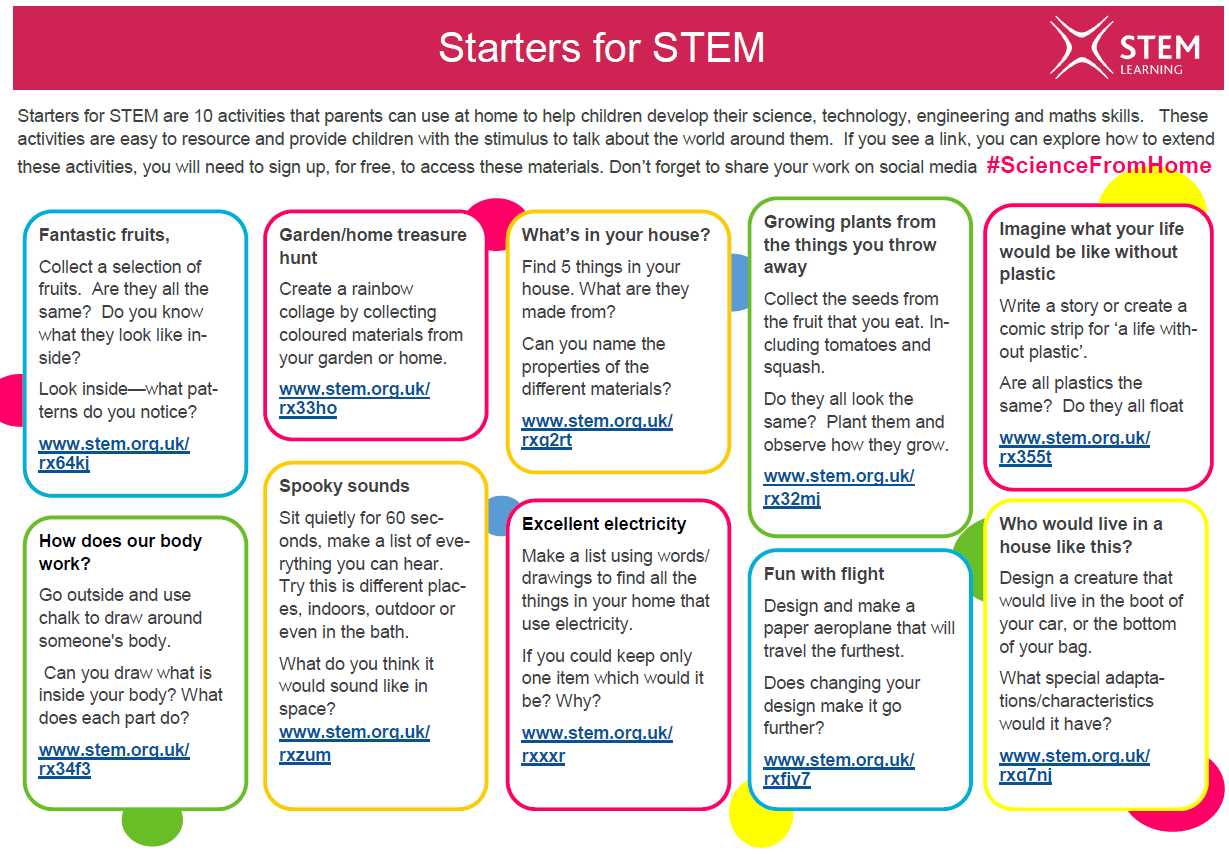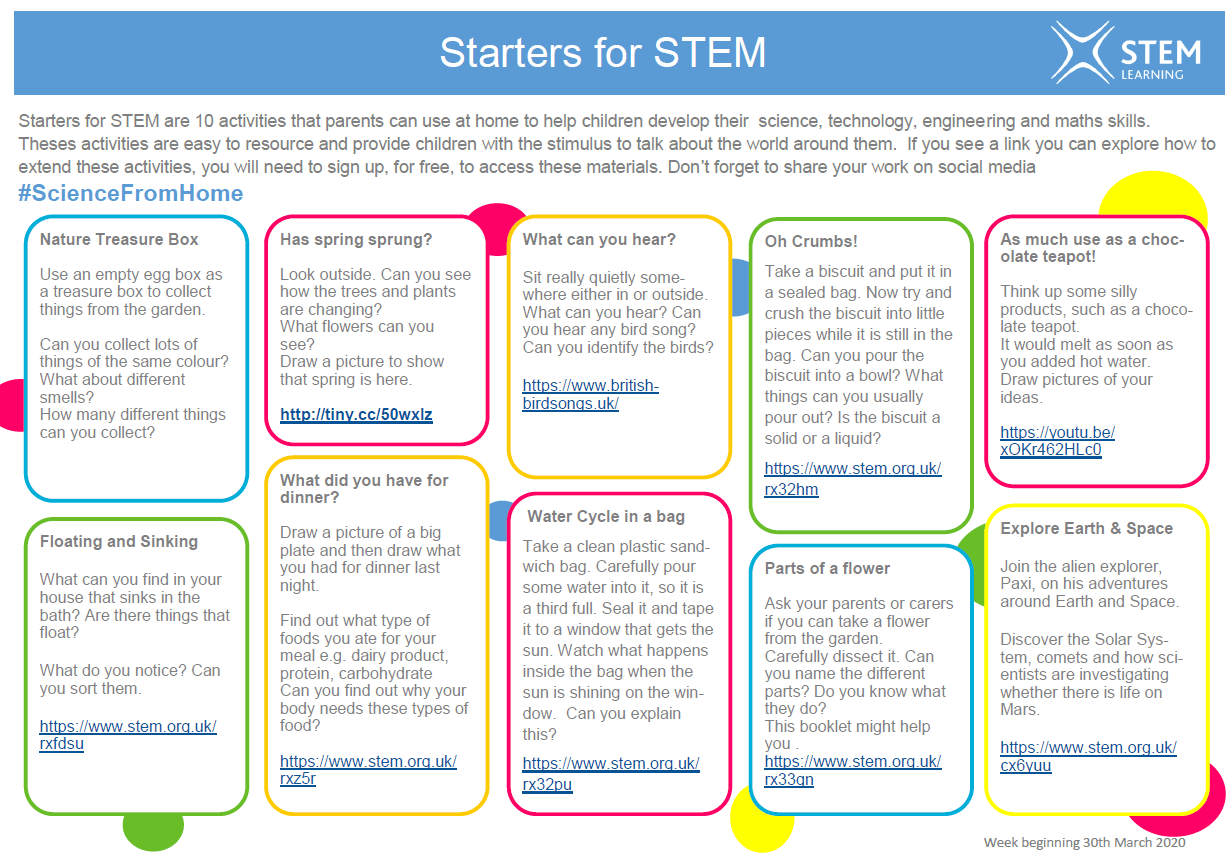 STEM CHALLENGES